MEET BEOSOUND EDGE
COMPACT AND POWERFUL WIRELESS SPEAKER
Beosound Edge is the latest addition to our range of wireless speaker systems, and it represents a whole new way of thinking interaction and sound. Beosound Edge is a compact and powerful wireless speaker, which offers an enchanting listening experience through an almost magical operation, timeless design and the most advanced acoustic innovation.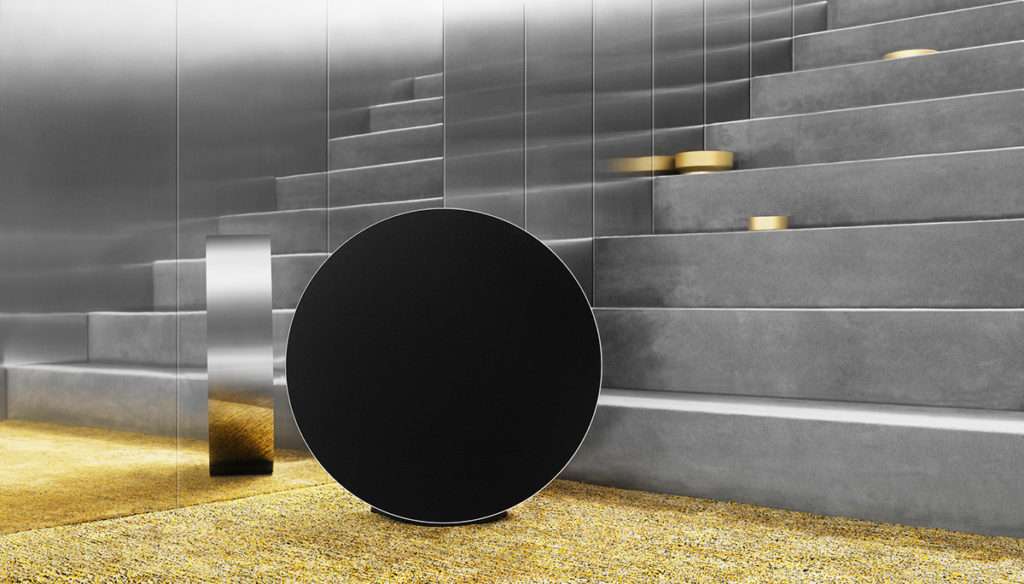 NEW MEMBER OF THE MULTIROOM FAMILY
Beosound Edge gives you the ultimate freedom.
It's a Wi-Fi and Bluetooth-enabled speaker packed with exciting features and options:
World's first active basS port – Read more below
Streaming via AirPlay 2, built-in Chromecast or Bluetooth
Bang & Olufsen Signature Sound with 360 degree sound
Timeless circular design
Two iconic placement options
Multiroom with AirPlay 2, Chromecast or BeoLink
Remarkable craftsmanship and uncompromising materials
Powerful, compact and wireless with a touch of magical operation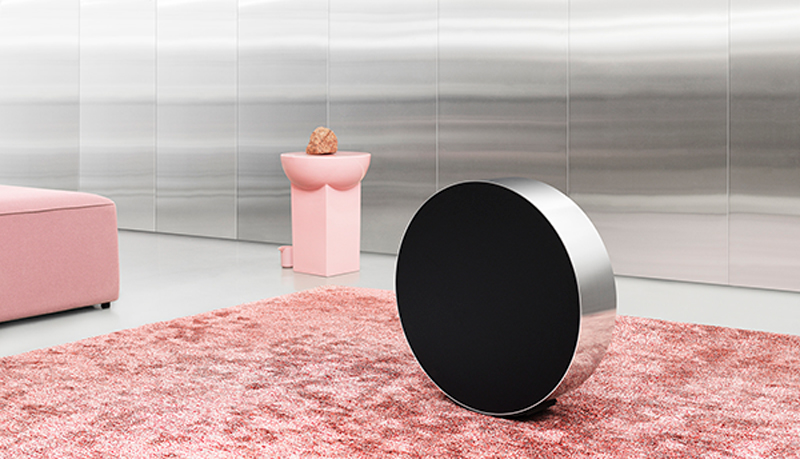 DESIGN PROFILE
Beosound Edge is designed by Michael Anastassiades. Michael Anastassiades is a new designer at Bang & Olufsen, and Beosound Edge is his first creation.
Beosound Edge's luxurious simplicity is reflected first and foremost in its minimalist and timeless design. It is inspired by a British 1-pound coin balancing on the high end which gives a dynamic impression. With Beosound Edge, consisting of a compact, circular shape and a polished aluminum cabinet, is less more. Beosound Edge can be placed to complement furniture on the floor or as a gravity-challenging statement on the wall.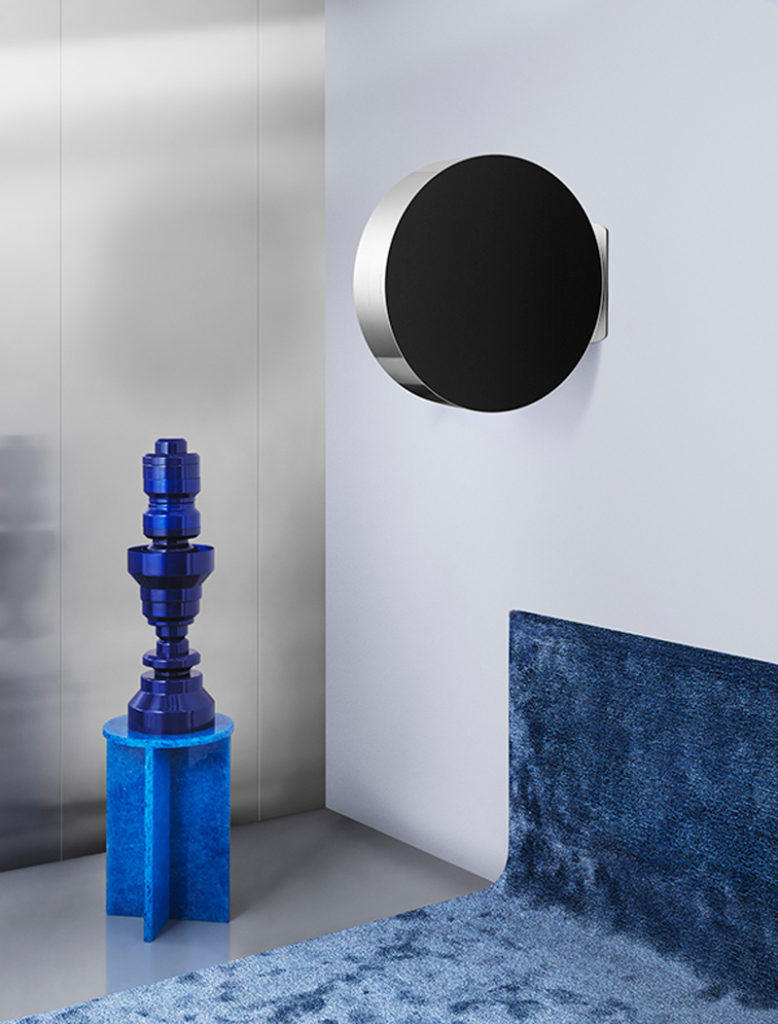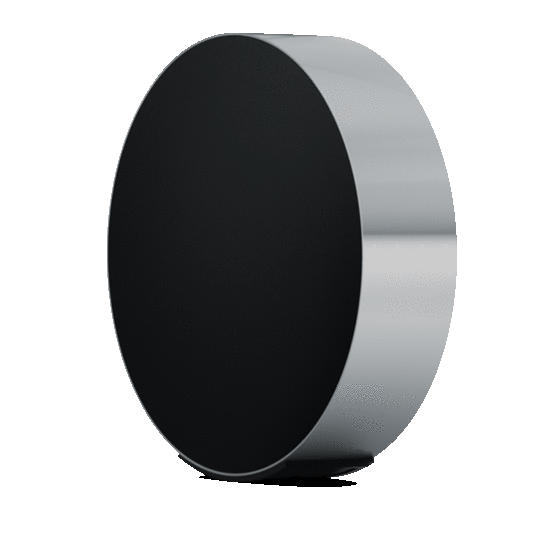 "The products always radiate an element of timelessness when observing them, and while technology evolves rapidly, they are still relevant and give a contemporary feeling."
Michael Anastassiades
Designer
MAGIC
It is enchanting to operate the Beosound Edge. A push in any direction from the center of gravity, controls the volume. Scroll it slightly forward to increase the volume or backwards to reduce it. The more you roll it, the more intense is the sound experience.
THE SOUND
Beosound Edge is a high-power wireless all-in-one speaker. It uses the most advanced acoustic innovation to provide you with a powerful and accurate listening experience through our latest patent on the world's first active bassport. Beosound Edge can whisper as beautifully as it can roar.
FLEXIBILITY
Beosound Edge fits into a flexible lifestyle, especially in larger rooms. Directional control of the sound can be used to split a room by playing music to either left or right or to fill the room with real 360 ° sound from both sides of the speaker.
CRAFTSMANSHIP
True craftsmanship requires perseverance, passion and curiosity. Beosound Edge is a speaker where there has been no compromise on materials and crafts. Remarkable craftsmanship and attention to detail were needed to get the perfect circular frame and then polish this exterior to a flawless finish.
STREAMING
At the same time, Beosound Edge gives you the ultimate freedom in playing music. It's a Wi-Fi and Bluetooth-enabled speaker that allows you to easily stream your favorite music services through AirPlay 2, built-in Chromecast, or Bluetooth.
THE NAME
With its name, Beosound Edge expresses its almost hovering design inspired by a coin that balances on the high end. If you imagine a wheel or a coin that stands out and is almost ready to roll away, you have the inspiration behind the Beosound Edge sound system.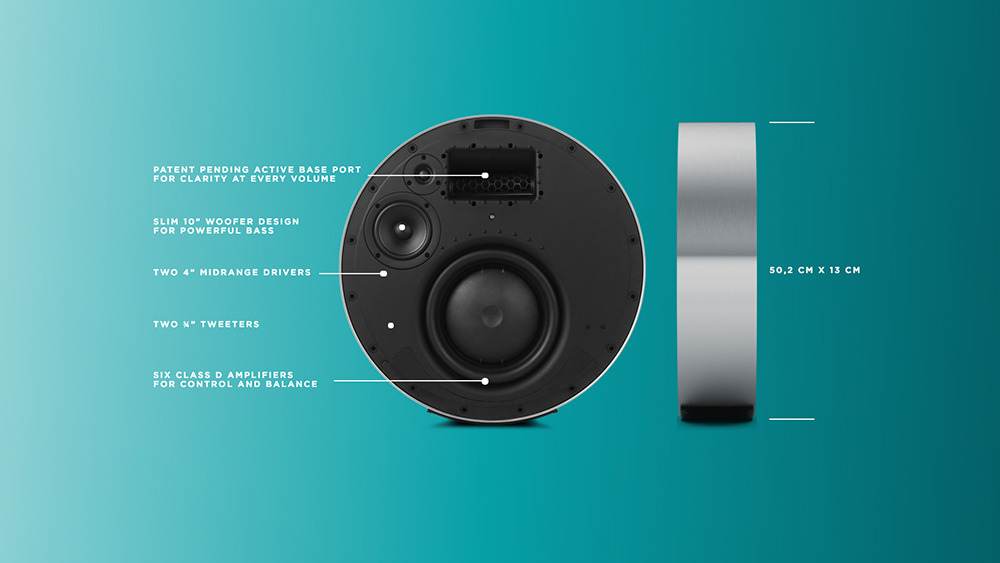 THE WORLD'S FIRST
ACTIVE BASS PORT
The active bass port combines two classic concepts for speaker design, so-called pressure chamber design and bass reflex design. The loudspeaker provides a perfect and powerful bass at high volume by mechanically (and magically) opening the cabinet to broadcast more bass. At the same time, it ensures accurate bass at low volume using the pressure chamber principle, so reproduction is as accurate as possible. Unlike other wireless speakers, the Beosound Edge can whisper as beautifully as it may roar. In other words: Beosound Edge must be experienced live!
PLACEMENT OPTIONS
Beosound Edge is a versatile speaker designed for the home's living space.
The compact circular shape provides two iconic placement options, either on the floor or wall mounted.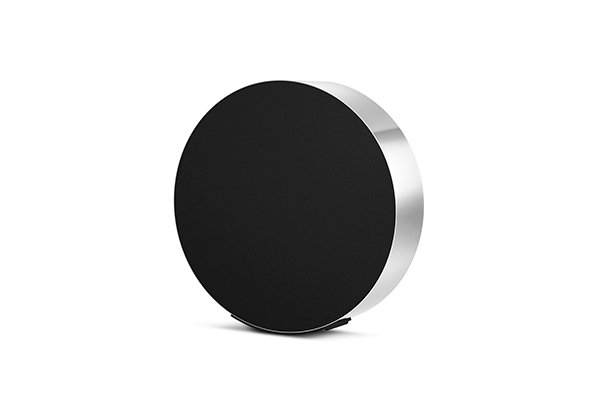 ON THE FLOOR
A Beosound Edge that stands on the floor can be beautiful as a main attraction, stand in peace and quiet in a corner or stylishly supplement other furniture. The space the speaker actually occupies is minimal, so you can place it wherever you want your sound. Its discreet floor base reinforces the product's "standing coin" expression, while providing the magic scrolling movement.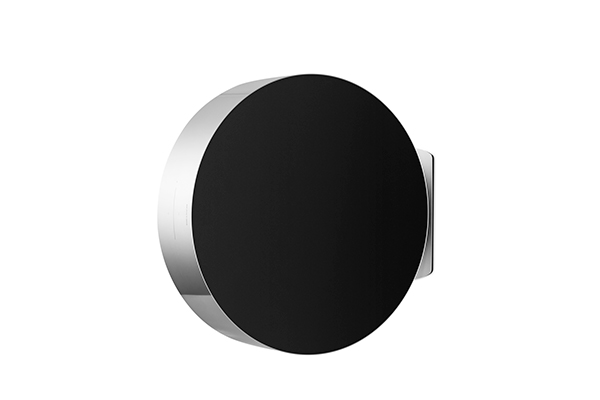 ON THE WALL
By hanging out like a watch on a railway station, Beosound Edge tightly divides the room in your home and makes it more appealing with sound in two directions. Using a spring inside as a counterweight it magically eliminates the gravity while still allowing the user to feel the product's inertia, which gives a surprisingly wonderful feeling.
WIRELESS MUSIC IN THE ENTIRE HOME
Beosound Edge supports Bang & Olufsen Multiroom and can therefore be connected to other multiroom products from B&O.
All our Multiroom products can be experienced alone or connected to each other at home. Play different music in different rooms or the same music throughout the home. Control it all directly from the Bang & Olufsen app.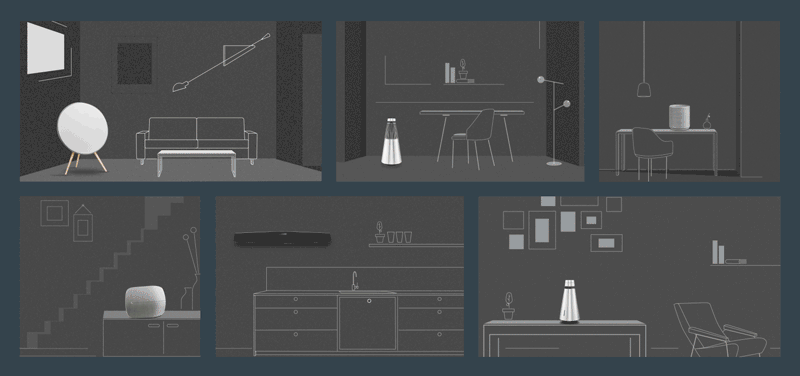 We have compared our new wireless speaker Beosound Edge with our iconic and very popular Beoplay A9 wireless speaker.
Get to know about their similarities and differences and get an overview of their many exciting features.
Happy reading!